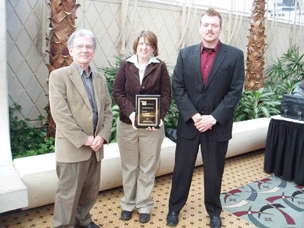 Milwaukee, March 16, 2007 – The Wisconsin chapter of the American Planning Association has awarded the Brice Prairie Master Plan its 2007 Chapter Award for a Plan Document. The Chapter Awards give recognition to outstanding achievements in planning and publicize persons and organizations whose activities advance planning in Wisconsin. The award was presented today to the Town of Onalaska, the City of Onalaska, and Schreiber/Anderson Associates of Madison at the Midwest Airlines Center in Milwaukee.
The award jurors singled the Brice Prairie Master Plan out for its unusually high quality and effectiveness. One juror's comments: "The Town of Onalaska's Brice Prairie Master Plan is an outstanding example of an area plan that responds to the unique characteristics, challenges, and opportunities of a specific study area."
"The planning process was comprehensive and thoughtful and included significant public participation that resulted in a Plan that clearly respects the physical development capacity, both natural and manmade, of Brice Prairie. This Plan is one that goes beyond typical land use planning to include a detailed analysis of the area's carrying capacity. Such an effort to achieve sustainable development should be applauded."
The Town's 2005 Comprehensive Plan recommended a master plan that assessed the future development capacity of Brice Prairie and planned for both growth and preservation. In early 2006, the Town hired Schreiber/Anderson Associates to assist in preparing three reports concerning the environmental, transportation, and emergency services capacity of Brice Prairie. To support that effort, the Town convened a panel of environmental experts to determine that groundwater quality and recharge are the primary limiting environmental factors on the Prairie. The City of Onalaska provided critical mapping and advisory support.
Through a public workshop process, the Town and Schreiber/Anderson Associates created multiple concepts for future growth in Brice Prairie. The Town and the majority of workshop participants chose the concept that assumed a strong Purchase of Development Rights program, which preserved large areas of the most important environmentally sensitive areas. The concept also features a multi-use rural hamlet to focus future identity and growth. The Town adopted the master plan in May 2006.
The master plan has already shaped Town decisions concerning the Prairie. Town Supervisor Sue Cejka noted "The recommendations that were made in each portion of the capacity reports provided the Town a clear direction for the future," and has guided Town decisions on a new conservation subdivision code, preliminary mapping of a mixed-use conservation subdivision to dovetail with U.S. Fish & Wildlife Service proposed purchased land, and upgrades to existing roads with walking trails.
The Town and its residents can be very proud of the work they have accomplished with the Brice Prairie Master Plan. Many people volunteered valuable time to give input to the plan and it will serve the people of the area well.